James Nicoll

3rd Dan Karate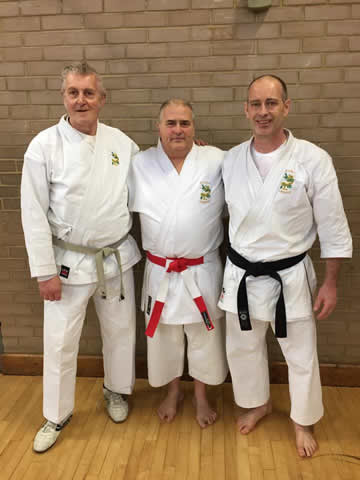 Sensei Bob Plumb & Sensei Trevor White award James his 3rd Dan
In 1982 aged 18, James attended his first karate session in Leiston, training with Pete Libardi under the EKKA. Enjoying the training immediately, he made steady progress , reaching 2nd Kyu in 1985.
In the mid 80s James had a period of training in Shotokan Karate, during which he attained 4th Kyu.
In 1987, James moved to Sudbury and was pleased to find his local club SEFKA used the same grading syllabus as he had with the EKKA, he began training under Sensei Trevor White and Sensei Bob Plumb. His training however was dogged by numerous and sometimes long periods of absence, the last being a 7 year break.
In 2011, James (now aged 47) returned to training, but initially could barely complete the warm up. With the encouragement of Sensei White, senior instructors and other students, he slowly improved fitness and got back in to proper training.
In October 2012, he graded and attained his 1st Kyu, his first SEFKA grade.
In April 2013, James successfully attained his 1st Dan Black Belt.
In April 2015, James successfuly attained his 2nd Dan Black Belt.
In April 2018, James successfully attained his 3rd Dan Black Belt.
"The friendly atmosphere of Sudbury Karate Club, instruction of Sensei White and other senior instructors were paramount in enabling me to attain my 3rd Dan"
James now enjoys assisting with junior and adult training sessions and runs the club website and social media pages.