Kevin Galvin

5th Dan Karate

Red Sash - Kung Fu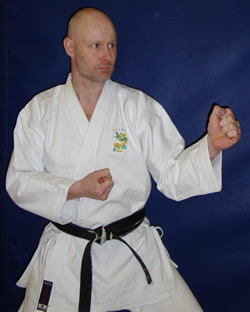 Kevin Galvin 5th Dan

Kevin was first introduced to Martial Arts at the age 9, where he tried various styles. In his mid 20's he chose to train soley in Karate with SEFKA. He attained his first dan black belt in 2003, second dan in 2005, followed by third dan in 2008. He opened his Karate club in Acton village in 2006.
He has enjoyed the competitive side the club has offered over the years and participated in both Kumite and Kata on numerous occassions.
In 2011 he decided to try a new style, training in Kung Fu, under instructors Trevor White (8th dan/ 1st Degree) and Keith Holmes (4th dan/ 1st Degree) just to further his knowledge of martial arts.
Kevin receives his 5th Dan from Sensei White on the 13th October 2019