Sudbury Karate Club News

This page is updated on a regular basis
The next Brown/Black belt gradings will take place on Sunday 8th April 2018, please make sure you are aware of the policy for grading requirement, if you intend to take your grading. In addition please ensure that your senior instructor is aware that you want to take your grading and that Sensei White is informed.
The South Eastern Freestyle Karate Association (SEFKA) was founded in 1984 by Sensei Trevor White (7th Dan). In the early stages of developing the assocaition Trevor was joined by Robert Plumb and his son Colin and so began years of dedicated training, service and instruction within the SEFKA organisation. With Martial Art careers spanning over 30 years Bob and Colin have closely assisted Trevor White in expanding the SEFKA organisation, opening clubs in Gt Cornard, Halstead and Earls Colne, all of which are still thriving today. Along the way Colin who was a fierce Kumite (sparring/fighting) competitor was crowned English Karate Champion, he and Bob are also both highly qualified Karate referees. Both are still keenly involved in training every week, passing on their expertise and experience to old and new students alike, they are both true ambassadors for the assocaiation.
Following the latest (Sunday 8th October 2017) senior SEFKA grading Sensei White who is the SEFKA Chairman and Chief Instructor awarded both Bob and Colin their 7th Dan Black Belts in recognition of their diligent and commited service to the promotion of Karate. The award was in the presence of many of the association Black Belts, all of whom have been helped and assisted by Bob and Colin in their own Martial Arts careers. (Photos below under senior grading)


The award of a 7th Dan is reserved for the very few truely dedicated individuals who show unwavering commitment to the Martial Arts.
October 2017 - Senior Grading Results
The senior grading took place on Sunday 8th October 2017, at Gt Cornard Sports Centre, the following grades were awarded:
To 7th Dan Black Belt
Bob Plumb & Colin Plumb
To 1st Kyu Brown/Black Stripe
Robert Wallace
Jennifer McBride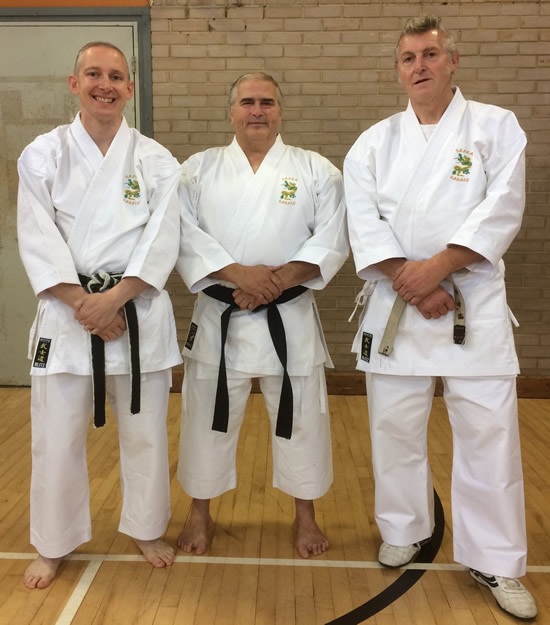 Sensei's Colin Plumb, Trevor White and Bob Plumb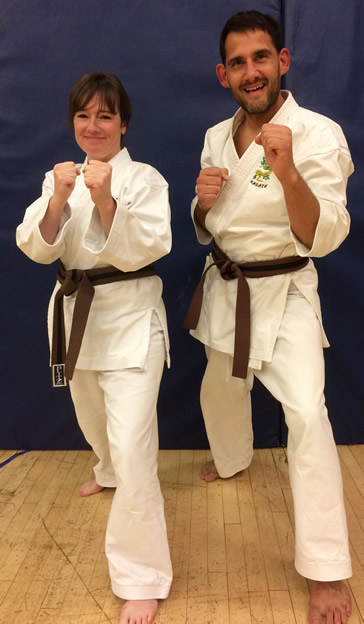 Jennifer McBride & Rob Wallace

Black Belts present at the Senior Grading
Congratulations and well done.
SEFKA Chairman and Chief Instructor Trevor White has issued the following update, which takes immediate effect for senior Gradings (2nd Kyu to 3rd Dan)
All persons grading at a senior grading who are 18 years old and under will be required to perform all applicable kicks at head height.
Those over 18 will be expected to perform their kicks at the maximum height they can kick, but in all cases the height will be above belt height.
Exception to these requirements will be that the student is unable to perform the requirement due to injury, incapacity or other genuine reason. This must be highlighted to your senior instructor prior to the grading, so the panel are aware and can take it in to account.
November 2017 Club Grading Results
Congratulations to the following students .
9th Kyu Yellow Belt
Hayden Bird, Robert Chapman, Alersandra Bulacz, Michael Vincent & Helena Bulacz
8th Kyu Orange Belt
Bobby Giles, Andy Sparkes & Oliver Sharp
7th Kyu Green/White Stripe Belt
Vincent Fosker, Elliott Davies, Violette Davy & Abbey Wade
6th Kyu Green Belt
Claude Lewin & Logan Sparkes
5th Kyu Blue/White Stripe Belt
Ellis Beetles
4th Kyu Blue Belt
Chloe Norris & Matthieu Ravat-Chefdeville
3rd Kyu Brown/White Stripe Belt
Sophie Norris