Grandmaster Trevor White

8th Dan Karate

1st Degree Kung Fu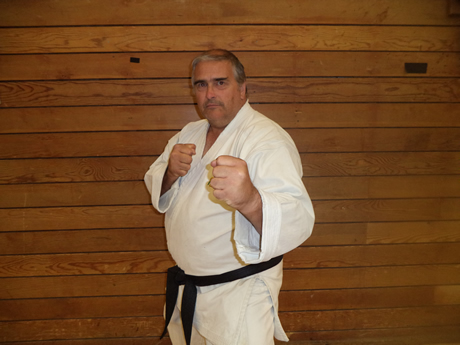 Trevor White - Sensei and Chief Instructor at SEFKA.

Studying the art of Karate since 1975, Sensei Trevor White has many achievements within Martial Arts, his latest was being promoted to 7th Dan in July 2009 by FEKO. He began his karate training in 1975, under Sensei's James Self & Bobby Norman, which was then part of the British Karate Council (BKC). He graded to 3rd Kyu in Wado Ryu karate in 1977. During this time he also had brief introductions into Aikido, Jujitsu, Bojitsu & Jojitsu.

Trevor later became involved in Korean Karate with Sensei Billy Brenan, training with Taekwondo Kicks and karate blocks and punches. He trained under Billy for 7 years obtaining 2nd Dan in 1983.
In 1984 Trevor decided to expand his martial arts life to form his own group the South East Freestyle Karate Association (S.E.F.K.A.). Now training for over 39 years and teaching for over 30 years, he has taught students to both National and International level. During this period Trevor obtained both English and British refereeing Qualifications. Trevor, the most senior grade student in the association, has a wealth of knowledge and experience.

In 2002, Trevor began studying Kung Fu (Ming Chuan) and received his 1st degree (Black Belt) in 2007. In 2009 he began studying Iaido at the Tenso Dojo (Sudbury) with Sensei Bobby Norman, learning the art of sword drawing and cutting. The style is Arakimuninsai Ryu Iaido, and each year gradings are held by Soke Hajime Hayabuchi when he visits from Japan – An unbroken line of headmasters has ensured that the style has remained unchanged (and is thus considered jikiden or pure). The present headmaster (soke) is the 16th in line.
Still training, Trevor continues to develop both his technical and teaching abilities and leads a team of enthusiastic instructors and assistants, striving to maintain high standards of martial arts instruction for all ages and abilities. Trevor follows a traditional syllabus for grading's, but encourages new ideas and techniques from other martial artists to widen the scope for all his students.
In April 2018, Trevor was awarded the title of Grandmaster 8th Dan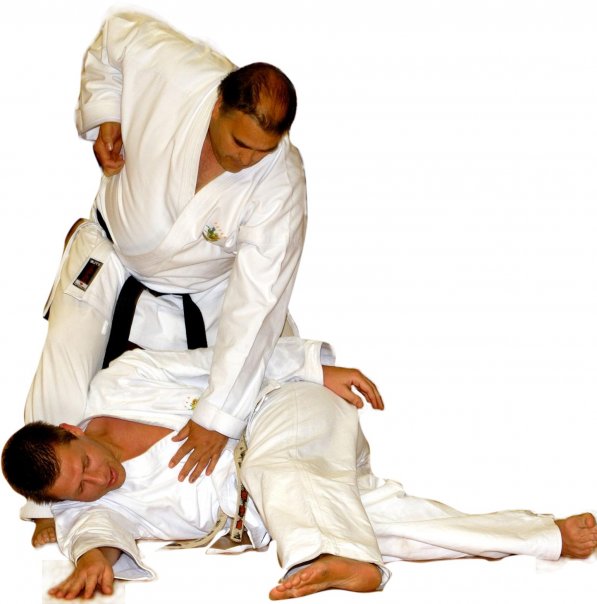 SEFKA 30 years old - Full Article
Trevor White - 8th Dan Karate, 1st Degree Kung Fu.
Thirty years devoted to local Karate clubs
It was in 1975, when local Sudbury man Trevor White embarked on his Martial Arts journey. This was at a time when Karate especially was in its relative infancy in the UK, with the likes of Tatsuo Suzuki arriving from Japan in 1964. After training in Wado Ryu Karate Trevor became involved in Korean Karate under Sensei Billy Brennan, in a style which encompassed Korean Taekwondo kicks & Japanese Karate blocks and punches. In 1983, Trevor attained his 2nd Dan Black Belt.

In 1984, Trevor decided to expand his Martial Arts life and formed his own association - South East Freestyle Karate Association (SEFKA), among those joining him at this time were local men Bob Plumb (now 7th dan), his son Colin (now 7th dan) and Dave Stalker (3rd dan), all of whom worked tirelessly in the associations development. The first club was opened for training at Sudbury Sports Centre and thirty years on it (under Trevor's instruction) is still going strong. SEFKA has expanded over the years and now boasts a number of clubs all over South Suffolk and North Essex, with Trevor as it's Chief Instructor and head of the association. Thirty years dedication has seen much success, both personally and in the development of other students. Countless competition successes, students developed to advanced levels and an English Karate Champion (Colin Plumb) are a few of the accolades that Trevor can look back on with pride and satisfaction, a testament to what he and the SEFKA organisation has achieved.

Trevor has never been one to rest on his laurels and has always continued to develop his own skills within the Martial Arts arena. He is a Black Belt in Ming Chuan Kung Fu and is a student of Iaido (The art of sword drawing and cutting). He was awarded his 7th Dan Black Belt by The Federation of English Karate Organisations (FEKO) in 2009, which marked his extensive service to Karate in the UK.

Thirty years on and Trevor still instructs at several clubs every week, imparting his knowledge and wisdom to students young and old alike. His enthusiasm and dedication to the Martial Arts is unrelenting, but he remains humble, focusing more on what he can teach, rather than on what he has achieved. A true Gentleman, Sudbury can be rightly proud of Trevor's service to local and national Martial Arts.